Social contribution activity
We work on social contribution activity initiatively as a good company citizen, and will support the activity of group employees by following actions;
1)

We work on social contribution activity initiatively as a responsible good company citizen, will establish the structure for them.

2)

We promote social contribution activity by using management resources, based on our management principles, and specify the problem area which need to be done preferentially.

3)

We promote social contribution activity more initiatively by cooperating with a wide range of stakeholders such as local community, government and international organization.

4)

We support voluntary public participation such as a volunteer activity by employees.
Concrete examples
Dream Train
~ for the future of children ~ (Myanmar)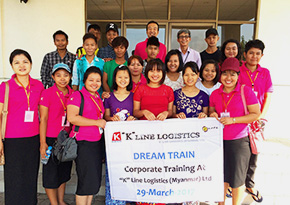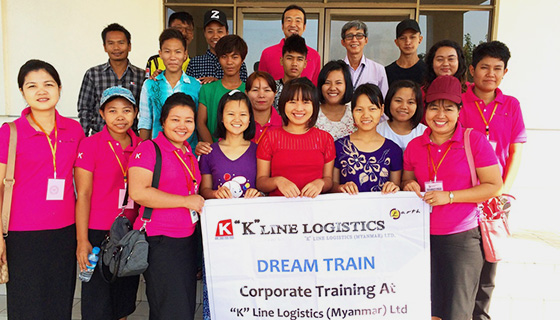 Democratization and economic development are progressing in Myanmar, but in the northeast border area, HIV patients from prostitution or slave trade never ceased. Children who lost their parents from HIV are difficult to get daily foods, and forced to live severe livelihood that cannot get enough education. To be helpful to solve the problem, International medical NGO "Japan Heart" has accepted children who in danger of slave trade or children who have to work who are unavailable to go to school, through operating sheltered facility called "Dream Train". KLL Myanmar which assents to the activity conducted one-day training which has introducing logistics job at office, visit tour of cargo handling of large-sized loads at a seaport, for fifth and sixth grade elementary school students. Since the training was the first activity for children and also for us, it became a fruitful and precious experience. KLL Myanmar hopes to contribute the children born in poor environment to play important roles in the future of their country, and we continue the support activity to Dream Train.